There is something special about Shizuoka. So special, in fact, that after many years of waging bitter war in his successful quest to unite the divided Japanese archipelago into one country, Tokugawa Ieyasu decided to settle, from all his many choices, in Shizuoka (then Sumpu). Thereupon he lived his remaining years in comfortable semi-retirement, and beginning in 1603, Japan entered into the unprecedented 265-year Edo Era of peace under the Tokugawa Shogunate. While residing in Shizuoka, Ieyasu directed the construction of Sumpu Castle and energized the village into a bustling city. Historical evidence shows that the greatest of all shoguns was an avid green tea drinker and even an accomplished master of chado (Japanese green tea ceremony). He lived to an astounding, at the time, age of 75. Was there a connection between drinking green tea and his longevity? We think so. Click here to learn more about the Health Benefits of drinking Japanese green tea.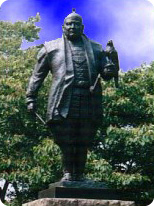 Where is Shizuoka?
Situated on the Pacific Ocean in central Japan, Shizuoka means tranquil (shizu) hills (oka) in Japanese. It is on these tranquil hills in Shizuoka Prefecture that some of the finest tea leaves in the world are grown. Shizuoka is blessed with unique terrain, mineral rich soil, a mild four-season climate, plenty of sunshine, just the right amount of rainfall, and a special factor, dense coastal fog. These are all the ingredients necessary to grow superlative tea leaves.
Consistently cultivating quality tea leaves is but one part; the other is the fine art and science of creating finished green tea. Bringing out highly desirable flavor from raw tea leaves requires a delicate balance of creativity and skill. There are numerous ways of producing green tea, and the tea master must follow precise steps taken in a timely manner. It is believed tea cultivation and production in Shizuoka began during the Kamakura Period (1185-1333). The result of centuries of accumulated blending and processing wisdom and mastery is evident in each new cup of Shizuoka green tea.
Shizuoka is a wonderful place to live in and visit. Japan's national treasure, the beloved Mt. Fuji, rests in Shizuoka Prefecture. Those that live near and can view the majestic mountain consider it a rare privilege. Located on the historic Tokai Road, and only one hour from either Tokyo or Nagoya via the Hikari Shinkansen Super-express train, lovely Shizuoka City is a convenient and worthwhile stop. Sumpu Castle and Park are two of the many attractive tourist destinations to be discovered throughout Shizuoka Prefecture. Traveling in Shizuoka also makes it possible to see first hand the ever present and alluring fields of verdant tea. We invite you to visit Shizuoka. For more info, please view the Useful Links page.